CULTIVATION IN NETWORK CAGES
In our country, especially when breeding gielted sea bream and sea bass, it has become quite common to grow in net cages. In parallel with this development, the establishment of offshore net cage systems, which enable more intense and efficient production, has given a new direction to net cage cultivation. Turkey has around 300 licensed businesses engaged in fish farming in cages in the network. The annual production amount of approximately fifty of these enterprises is one hundred tons or more. Especially sea bream and sea bass farming started in 1990 with small units, usually in sheltered bays. In recent years, practices called offshore have been started. Thus, restrictions were imposed on fish farming practices in the bays, leading to a debate with tourism. This is somewhat positive and encourages the creation of large rather than small businesses. This situation encourages large capitals to enter fish farming. They are suitable studies in terms of increasing the amount of fish production in our country. Safe, reliable and robust mesh cages are the most important criteria, regardless of what material or material they are made of. Because once the fish runs away. It is not possible to capture a fish that escaped from the torn net in any way. For this reason, precautions should be taken beforehand against any danger that may be damaged by waves, wind or the facility. Creating units that are strong enough to withstand any storm that may occur is an issue that entrepreneurs should pay attention to.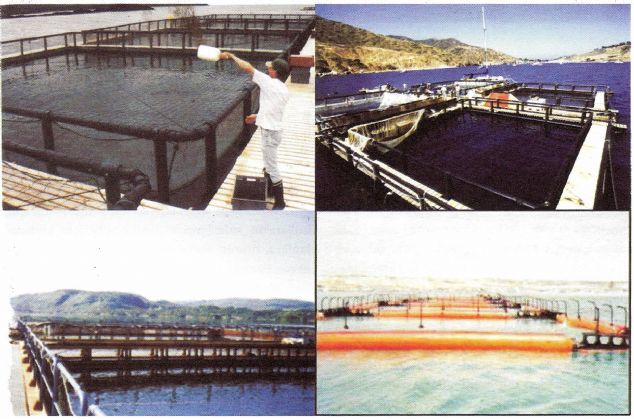 Image: Examples of square type cages
43% of the fish production provided by aquaculture in our country is sea bream and sea bass. Almost all of these two species are produced from fish farms consisting of net cages. Tuna fattening enterprises, which have been operating in aquaculture in recent years, are a new formation. And these businesses, which are a new formation, contain really large mesh cages. The cages used can be 50-100 meters in diameter and 150-300 tons of fish can be accommodated in a cage. The use of circle-shaped cages has become widespread in enterprises engaged in sea bream and sea bass farming. The diameters of these cages vary between 12 and 20 meters. In addition, it is more appropriate to use circular cages when the circular rotation movements made during the baiting of both sea bream and sea bass are considered. There is a difference between square and circular trusses of the same volume. Unlike square cages, there is a 20% volume loss when feeding fish that make rotational movements. Therefore, in recent years, it has been observed that there has been a trend from square type cages to circular type cages. Especially the cages used for sea bass farming are larger than the cages used for sea bream. This ratio is expected to increase further over time. Today, very large net cage systems with a capacity of 300 tons are used in aquaculture in net cages. There are very successful net cage cultivations that should be taken as an example in Europe and the world. For example, we can show "Kılıç Seafood" businesses as an example in this regard.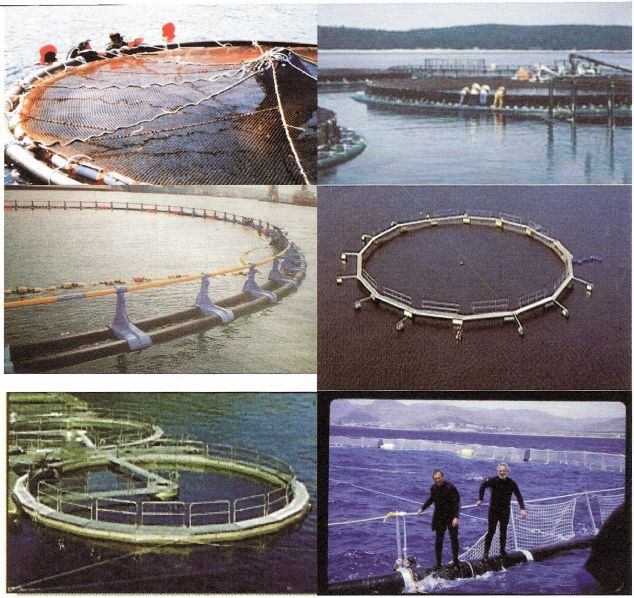 Image: Examples of circular type cages
The criteria to be considered when setting up net cage units in a region can be listed as follows.
1. How will transportation be made by road and seaway?
2. How is the water depth and current?
3. How is it against the prevailing winds and what precautions can be taken?
4. Is there a danger of flooding and cloudiness?
5. Is there any pollution in sea water caused by factories, tourism facilities or summer residences?
6. Will it interfere with sea transportation?
7. Are the water conditions (temperature, pH etc.) suitable for the species being considered or does the species to be cultivated naturally live in the area?
8. How is the floor structure?
9. What is the legal lease status of the sea area where the system will be installed?
10. What is the settlement situation on land close to where the net cage system was created?
Based on the above items Turkey is difficult to find a suitable field to make fish farming in the sea. Renting the area is also a very arduous process.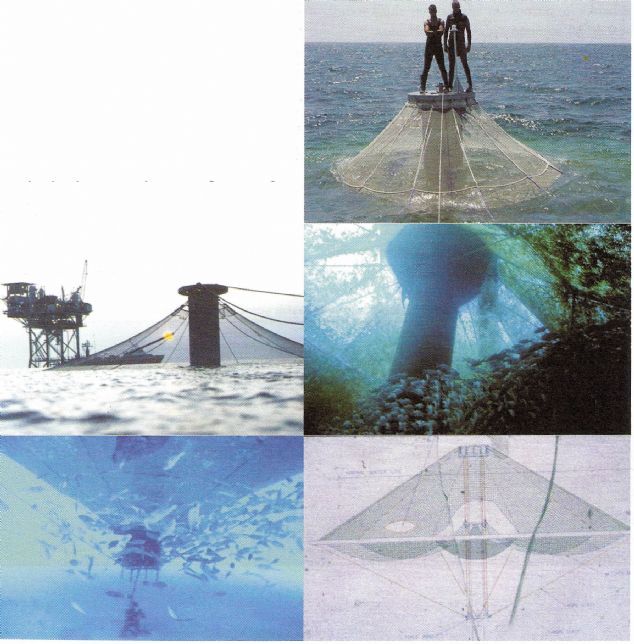 Image: Sink cage models for underwater applications
SEA BOTTOM AND MIDDLE WATER CAGES
Today, fish farming in net cages is commonly done in cages made of floating type flexible material. Net cage mechanisms that allow fish to be raised at the sea bottom or in the middle sea are developed especially for the planning to be made in areas open to waves and winds.
This type of cages can be preferred because it is desired to provide better growing conditions than surface cages for the species to be cultured, except for weather conditions. For example, water temperature is a limiting factor when farming trout in the seas. This problem can be eliminated by lowering the fish under the thermocouple layer by using sink type cages.
In Japan, in addition to the production using net cages on the sea surface, the production made by placing it in the middle and bottom of the sea is a method that has been applied since 1960. The net cages used by these breeders are relatively small in size. As with other cages, sea bottom or middle water net cages are made with the same principle. They have floaters and weights that allow the net to sink to the bottom. They have spiral-shaped net pipes for the purpose of feeding only. The eye structure of these nets is necessarily smaller than the size of the food given.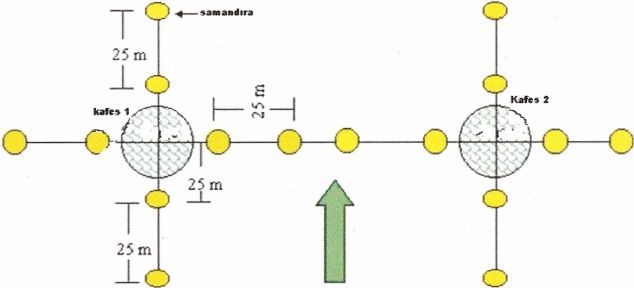 Image: An example of a round mesh layout
In recent years, some companies have started to develop quite large structured cage models. A significant portion of these mesh cages can be submerged under water when required. Due to their size, they are not affected by ordinary waves. The water volumes of these mesh cages, which are quite large, are gradually increasing. There are firms that go bankrupt property in Turkey in the cage. Due to insufficient information in terms of usage, success could not be achieved to a great extent.
Feeding is one of the important issues that should not be overlooked when breeding in net cages. As the amount of fish produced increases, it is necessary to be very careful about feeding. Feeding should be done sufficiently and should not be hasty in giving feeds. Because if it is not eaten, a feed that can go out of the net cage causes an increase in cost. Only four of the net cage establishments engaged in fish farming in our country use automatic feeders. Other businesses prefer to feed manually. However, the use of automatic feeders is quite common all over the world. The reason why it is used less in our country is that the farm capacities are lower than the developed countries engaged in fish farming and the labor force is much lower than the developed countries engaged in fish farming. In recent years, some companies have started to develop and apply quite large structured cage models. A significant portion of these mesh cages can be submerged under water when required. Due to their size, they are not affected by ordinary waves. The water volumes of these very large mesh cages are gradually increasing. In our country, there is a company that has a sinkable cage. It could not be used due to insufficient usage information.

Picture: Automatic feeding pipes in net cages
FIXING THE NETWORK CAGES TO THE SEA GROUND
While the net cages are placed in the sea area, they are fixed to the sea floor individually or in groups. In the enterprises examined in our country, cages with diameters ranging from 10 to 20 meters are grouped around the cages of different numbers, from single rows ranging from 4 to 10 and double rows ranging from 5 to 13, and fixed on the sea floor. depending on the dianeters of the cages, some cages are tied together in squares with ropes and anchored to the sea bed. In these systems, four-grouser or plow-type anchors with a weight of 75 to 400 kilograms are used. Admiral type anchors weighing between 1 and 2.5 tons are used together with other types of anchors in three of forty-nine businesses. It is very important to use suitable type and weight anchors to fix the cages to the sea. Net cage systems should be strong and heavy enough to not move the anchor even in climatic conditions where external forces such as wind and current are the most severe. Even the smallest mistake in this matter can be very costly to the business. In cases where the ground structure is mud, using vaults is more suitable than iron anchors. Concrete vault is much cheaper than iron anchors of the same weight.
Apart from the anchor, the chain is also very important for the net cage system. Almost all of the chains used in fish farms in our country are chains removed from ships that have completed their useful life. For this reason, it is necessary to be very careful when buying chains. It should be checked very well and make sure that there is no possibility of rupture.
Where the net cages are to be placed, the sea depth should be 2 times deeper than the net cage depth. Even in compulsory situations, the lower part of the cage should be at an average height of 5-6 meters from the sea floor. Among the fish farms in our country, enterprises with an annual production capacity of more than 500 tons prefer to produce in water deeper than 40 meters.
It is the rope and the buoy that balances the tensile force between the cages and anchors in floating mesh cage systems. Silk ropes with the same thickness as nylon ropes compared to nylon ropes are more flexible and more durable. In addition, the resistance of silk ropes to sunlight is higher than nylon ropes. However, silk ropes are more expensive than nylon ropes. Silk ropes can be removed from scrap ships just like chains. These ropes can be used in mesh cage systems. Manufacturers should be careful when buying and using these used ropes.
GENERAL MATERIALS USED IN THE NET CAGES
The materials used in net cage construction must be able to withstand sea water and be strong. Materials that make up a net cage: float, net cage body, platform, various ropes, rope, net, stabilizer concrete block, sailor anchor, chain, etc.
NETS
Today, the most commonly used materials in mesh cages are polyethylene origin materials.
Developments in network technology have lagged behind the developments in cage systems. Cage nets located between the mass of the water in which the fish produced in fish farms are located and the mass of the sea outside the cage are important in terms of determining the production volume of the system. The chemical structures of the meshes of the cages used in our country are predominantly polyethylene. These ropes are called knotted network or knotless network according to the applied knitting. While the nets are equipped in accordance with the cage to be used, a flat square cage net is obtained by cutting the eye opening straight, and a cross equipped cage net is obtained by cutting it diagonally. In addition, knotted fishing nets cause more damage than knotless fishing nets in bream farming enterprises. One of the operations in mesh cage systems is net replacement. Net switching is easier in a knotless net than in a knotted net. Knotted nets get dirty faster and need to be replaced more often.
In the nets used, meshes and thread thickness are calculated according to the size, weight and behavior of the fish species grown.
Many materials are being studied on the main material of the ropes that can be used in cage making. These are materials such as nylon, ulstron, courlen, polythen, cupro-proof polythene. In nets made of these materials, it is important that creatures such as moss or mussels cling to the net. In addition, various studies have been carried out on whether a metallic mesh cage can be made. But they were not applied because they were not flexible.
Very little algae-holding nets have been developed in many countries in recent years. In our book, there is no need to elaborate on these issues. It is a desired feature that the selected nets should be strong and have a structure that holds less moss. As fouling organisms attach to the cage net, the mesh openings will close and the water circulation between the inside and outside of the cage will gradually decrease. For this reason, the cage nets should be replaced periodically with the least possible stress for the fish in the cage. Net washing machines used in this subject have come into use in our country.
In order to increase the security of the net cages, they must be constantly checked and changed frequently. Nets removed from seawater should be washed immediately with fresh water. In the washing process, by using pressurized water, the algae grown on the nets can be removed and cleaned.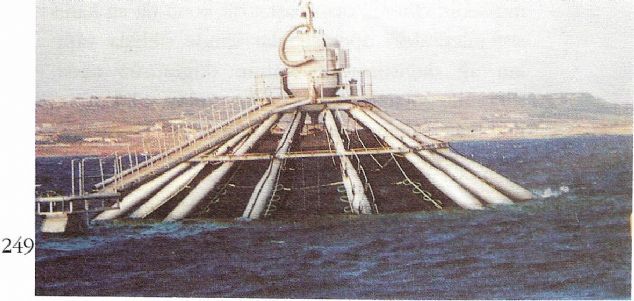 Image: An example of a large capacity mesh cage that has been put into practice
FLOATERS
Many materials such as plastic drums, metal drums, wooden parts, cork collar and foam (styrofoam) are used in the flotation of the net cages. In recent years, the most used material as a float is foam. This material is usually placed inside the main pipes in circular polyethylene cages. Sometimes it is squeezed into the buoys used in net cage systems.
Its low cost, its non-buoyancy guarantee and its easy availability have led to the widespread use of foam. As is known, foam is a weak and non-resistant substance. This material, which is widely used as a float in square shaped wooden cages, will easily break due to waves if it is not well protected. For this reason, using it with a linoleum produced with tight seams on the outside or by placing it in a case increases the useful life of this material. The use of air-filled drums made of plastic or metal materials has decreased in recent years as they will sink when pierced. In recent years, plastic pipes filled with foam are more preferred.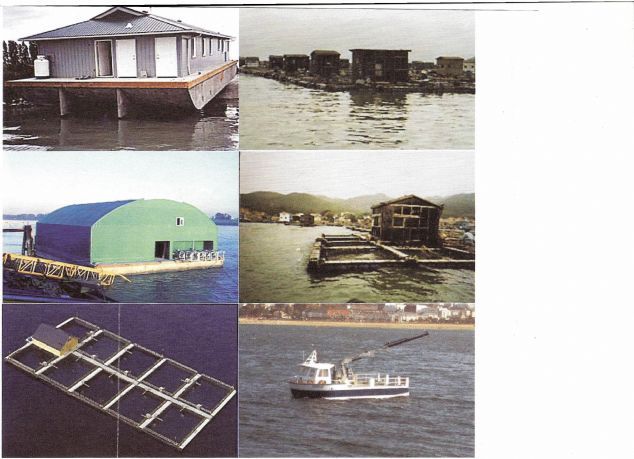 Picture: Example of a crane boat used in the construction of floating administrative and shelter structures and cages, used in net cage units in some countries. These units can be found especially in lakes located in foreign countries where waves are less.
BUOYS
We have said that the most common method of using net cages is to place a chain or wire rope stretched over the sea on both sides of the net cages to form a path in the middle. In this system, the rope or chain is stretched to the sea surface with two large buoys or a large float with one end on the shore. In this stretching process, floaters are planned according to the size of the system to be installed and the weight of the line to be used (chain or steel rope). Floaters need to be stronger than thick sheet metal or plastic.
All of the buoys in the enterprises in our country are surface buoys. Their volume varies depending on the system they are used in, but is generally between 200-1100 liters. Only one of the enterprises examined uses a system that is very different from the systems in the other forty-eight enterprises. This system has 6000 liter floats. The buoys used in the net cage system should be made of materials resistant to harsh sea conditions. Most of the buoys used in our country are PE originated buoys with high resistance to sea conditions. While determining the volume of the float to be mounted on the net cage system, where the system will be placed and the external forces that will affect that float are taken into consideration. With the excessive volume, the force acting on the float from external forces will be higher. In this way, the float will bring extra load to the system compared to its excess volume. In this case, the chain of the system connected to that buoy will be stretched and the anchor connected to the chain will be able to move on the sea floor. Undoubtedly, this will have sad consequences for the fish farm. If the volume of the selected surface float is less than necessary, the float will sink into the water due to external forces affecting the system and itself. It will cause more external force to affect the cage part of the cage system. These external forces, consisting of waves, wind and currents, can cause the cage to be damaged or submerged in water. It is necessary to attach great importance to such issues during planning.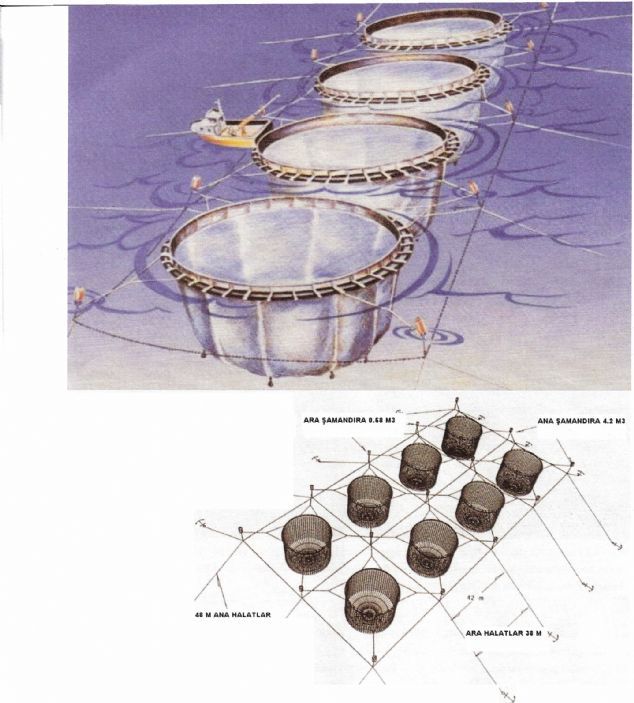 Picture: There are a wide variety of models in the market as aquaculture in net cages. Therefore, it would be good to make a decision after doing a detailed market and model research in a breeding.
AUXILIARY MACHINES AND EQUIPMENTS
Equipment such as beacon buoy, automatic feeder, heat and light insulated feed tank, fish grading machine, net washing and dyeing machine, fish size measuring device and fish watch mirror are not the main parts of net cage systems, but they are important. It is a legal obligation to have sign buoys to determine the boundaries of the fish farming area. These sign buoys should be easily visible also at night.
MATERIALS REQUIRED FOR A CAGE UNIT WITH 100 TONS OF CAPACITY
The layout plan of a net cage enterprise with a production capacity of 100 tons per year and the equipment required for the establishment of the farm are given below:
- 12 m diameter circular PE cage (10 pieces)
- 8 meter deep net compatible with these cages (15 pieces)
- 200 lt volume buoys (5 pieces)
- For rope cage connections (32 mm 1000 meters)
- Chain (24mm 300 meters)
- Lock (20 pieces)
- Rodanza (84 units)
- Thin chain (12 mm 15 meters for floats)
- 18 pieces of anchor (250 kg flake type)
- 18 collectors
- 200 meters of 14 mm silk rope (for use between cages and collectors)
SETTLEMENT PLAN
As can be seen in the figure below, the cages can be fixed to the sea floor by placing (grouped) squares of ropes around them.
If 30-35 thousand pieces of sea bream or sea bass are placed in the system given in the figure, the harvesting process is performed when the fish reach 300-350 grams of weight and a product of around 100 tons is obtained. However, it takes more than a year for both sea bream and sea bass to reach harvest size. In the second year, a new cage will be required for juveniles. In this case, it will be sufficient to add two cages to the system. Or there will be a need to prepare a separate platform for juvenile fish. The second mesh cage system should be installed in an area with better weather conditions than the first system.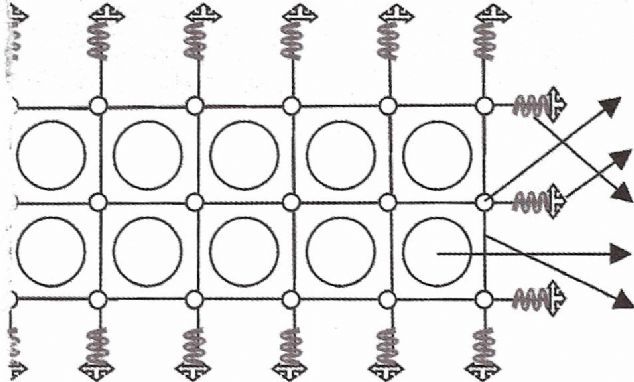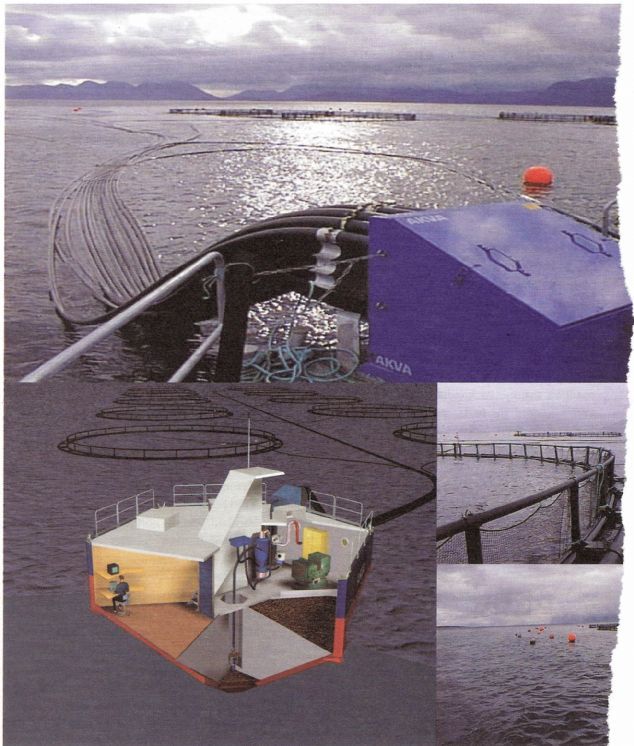 Picture: Automatic feeding is done to reduce labor in fish farming in net cages in large enterprises. In our country, studies have been carried out on this subject in recent years. In a floating warehouse, feeds are made by computer control at certain times of the day. It is automatically sprinkled into net cages to ensure the best use of feed.